In November 2004, Jim and Diane left on a cruise, from Rome to the western Mediterranean,
to celebrate their 35th wedding anniversary. For the week before they set sail,
Jim and Diane also got to visit Florence and Pompeii.
In some ways, it was recapitulation of their first cruises as college students nearly 40 years ago. Jim set sail for an around the world voyage from New York in October 1965. Diane boarded the same ship in February 1966 and traveled from Los Angeles. In the Fall of 1966, Jim, now a staff member, repeated his voyage of the previous year.
On the left, the model of the MS Ryndam II, on which Jim sailed in 1966.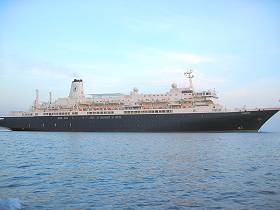 Jim's itinerary for the Mediterranean included Lisbon, Barcelona, Marseilles and Rome. Diane's voyage included Rome and Casablanca. So on this trip each got to visit ports which only the other had visited, as well as Rome which both had seen. New ports for both included Monaco, Gibraltar and Cadiz.

On the left, the MS Noordam of the Holland America Line fleet.