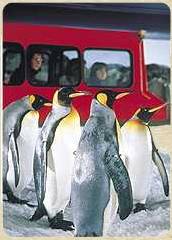 In Auckland, we visited Kelly Tarlton's Antarctic Encounter. This was a special exhibit that gives visitors an experience of the Antarctic. The highlight was viewing Emperor Penguins as one might see them in the wild. We got to get "up close and personal" with these fascinating creatures.

We traveled in a special vehicle (left) with wide windows like the one above. Our display is intended to give you a taste of this visit with the Penguins!

The slideshow is continuous until you move your mouse over the window. To resume, move your mouse off the window. Enjoy!