January—February
– Our year began with a busy schedule. Jim ordained three deacons, one priest and installed four rectors! Diane led a retreat for new clergy spouses at the elegant Selah Inn in East Texas. Jim had sinus surgery and recovered very well. Diane continued her work with
Uganda Partners
which supports the development of
Uganda Christian University
. The University would celebrate its 10th anniversary throughout the year with lots of events and activities.

March
– Elizabeth turned two on March 14th. The
birthday party
was held at her own home. She received, among other things, a play kitchen, which she absolutely loved. (At left, she is giving Grandpa a demonstration!)
Diane flew to Phoenix to celebrate her Dad's 85th birthday and attend a family reunion with all of her siblings (4 brothers and one sister) and all the extended family living in that area. Jim attended the House of Bishops meeting at Camp Allen, Texas. Diane began hosting "prayer breakfasts" for clergy spouses at our home. William's First Communion was held at Church of the Incarnation. We adopted a precious kitten, Corrie (part seal point Siamese) and later adopted her mother, Godiva, a long haired gray calico who had been rescued by our vet from the pound.

May
– Jennifer received the honor of being designated one of Dallas' "Best Lawyers" by
D Magazine
. She is working in family law at the legal firm of
Verner & Brumley
in Dallas. She is specializing in the practice of Collaborative Law. In fact, she is a founding member of the
Interdisciplinary Collaborative Practice Group for Families
(the
i
Family Group).
We hosted Bishop Ben Kwashi from Jos, Nigeria. Diane helped to organize the annual "Day at the Lake" for clergy and their families at the new All Saints Camp.

June
– Justin and his band was the lead act at Concert of Christian music in Dallas on June 2, featuring artist Nathan Tasker. It was great! Photos from the concert can be seen here. Justin also produced a CD of his music. You can listen to his original works at his website,
JustinStanton.com
.
Sadly, our dear friend and colleague Bishop Steve Jecko died soon thereafter. A magnificent celebration of his life and ministry was held at Christ Church, Plano.

July
– Jim and Diane went to London for meetings. They followed this with a week-long vacation with friends in England. Floods throughout the UK prevented any side trips but we had a great time enjoying some of our favorite museums and restaurants in London.
At the end of the month, William turned seven years old. His parents hosted a
"Boot Camp"
party for him – a huge success with lots of activities and fun! Camouflage was all the rage at the party, which you can see in the following pictures:
August
– The whole family went to
the Circus
. Later, Jim and Diane took "the boys" (William, Weston and James) for an overnight to our local amusement park,
Six Flags Over Texas
. Everyone had a great time.

September
– James turned four and we literally had a ball at the "Little Gym" for his
birthday party.
All the children got to participate in group activities and individually try their skills on gymnasium apparatus.
Diane's sister, Drew Ann Krempin, came for a weekend visit to attend an elegant baby shower for Jennifer hosted by her dear friends Jeannie Duncan and Kathleen Dolt. It was wonderful having "Aunt Fabulous" (as Jennifer and Justin call her) here!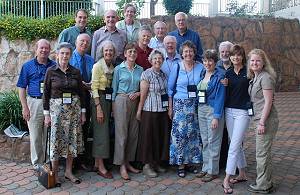 Diane and Jim left for Uganda at the end of the month with a team of 20 including former Archbishop of Canterbury, George Carey, and his dear wife Eileen Carey. Bishop Ray and Shirley Smith from Sydney, Australia, also joined us.
Diane's niece, Erika Hanson was part of the team. Laura Allen and many dear friends and colleagues from around the country came along to celebrate the
10th Anniversary of Uganda Christian University
.
It was a spectacular trip and Jim even got to go on a brief safari with good friend, Tom Graves, to the beautiful
Queen Elizabeth National Park
.
October
– Diane was pleased to receive word upon their return from Uganda that USAID had approved a grant for a new Library at UCU to be built in 2008. This was very good news since this is the 3rd grant to be approved (the other two were for building a large dormitory complex).
Shortly after our return, Jim presided over his fifteenth Diocesan Convention, which was held at South Fork Ranch, made famous by the TV series "Dallas." It was an enjoyable and harmonious event. Jim called for the election of a Suffragan Bishop to assist him. We are very grateful for the support from our Diocese.
November
– Evellyn Louise Hargrave was born on
November 9th
. She weighed in at 6lbs 15oz., and was 20 inches in length. She is a beautiful, precious little baby girl and her brothers ("Bubbos" as Weston refers to himself and William) just adore her.
We had a wonderful
Thanksgiving
with all of the family here.

December
– Diane has several speaking engagements talking about the still popular topic of "Angels". Christmas will be spent with the family, Christmas Eve at the Cathedral. Weston will celebrate his fourth birthday at the end of the month. Diane and Jim will spend a week in North Carolina with some dear friends celebrating our 39th wedding anniversary and New Year's Eve.
We wish you all a glorious and joyful Christmas, and a blessed New Year.