Jim &
Diane's
2006 Cruise to Australia
& New Zealand

On November 5, Jim and Diane flew from Dallas to Los Angeles, then on to Auckland, New Zealand and Sydney, Australia.
There, we boarded the ms Statendam, Holland America Line for a 14 day cruise of Australia and New Zealand.
You can follow the cruise at right. For photos of each port, click on the name of the city.
At right is also the log. For some comparisons, consider that Sydney is as far south of the equator as Santa Ana, California is north. Melbourne is as far south as San Francisco.
The farthest south we went is Dunedin - about as far south as Rhinelander, Wisconsin is north.
The ship traveled a total of 3032 nautical miles, or 3489 statute miles.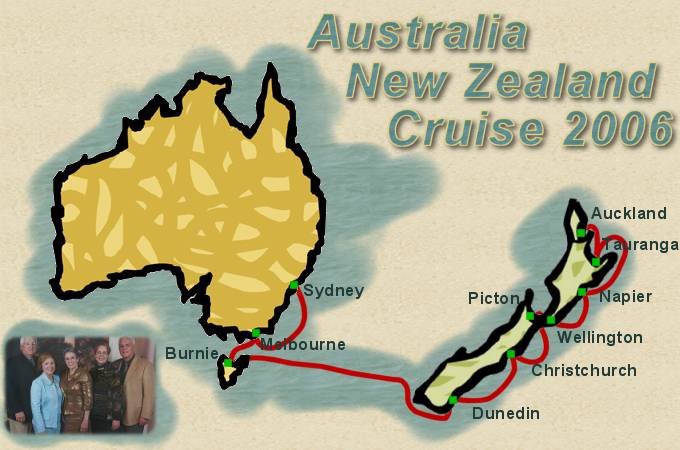 NOTE to visitors: You can navigate these pages in two ways. First, you can
click on a city above. Or second, you can click on the city name in RED COLOR below.
CRUISE LOG
PLACE
ACTIVITY

LONG/LAT

TEMP at Noon

11/10 7:45 PM
Sydney, New South Wales, Aus
Set sail: Melbourne, Aus
33.52 S
151.13 E

77

11/11

At sea

59

11/12 8:07 AM
9:36 PM
Melbourne, Victoria, Aus
Dock
Set sail: Burnie, Tasmania
37.49 S
144.58 E

77

11/13 7:41 AM
6:42 PM
Burnie, Tasmania,
Aus
Dock
Set sail: Dunedin, NZ
41.40 S
145.55 E

64

11/14

At sea

57

11/15

At sea

55

11/16

At sea

54

11/17 7:58 AM
6:30 PM
Dunedin, Otago, NZ
Dock
Set sail: Christchurch, NZ
45.42 S
170.31 E

52

11/18 7:38 AM
6:30 PM
Christchurch, NZ
Dock
Set sail: Picton, NZ
43.31 S
172.40 E

57

11/19 7:38 AM
6:30 PM
Picton, NZ
Dock
Set sail: Wellington, NZ
41.18 S
174.1 E

55

11/20 7:07 AM
7:06 PM
Wellington, NZ
Dock
Set sail: Napier, NZ
41.18 S
174.46 E

66

11/21 8:02 AM
Napier, Marlborough, NZ
Dock
Set sail: Tauranga, NZ
39.30 S
176.54 E

63

11/22

At sea

63

11/23 6:00 AM
6:00 PM
Tauranga, Bay of Plenty, NZ
Dock
Set sail: Auckland, NZ
37.42 S
176.10 E

66

11/24 5:12 AM
Auckland, NZ
End of voyage
38.9 S
176.0 E

70